How to obtain an International Driver's License by using this site.





1.

ONCE YOU HAVE DECIDED TO FILL OUT AN APPLICATION, CLICK ON THE "APPLY NOW" BUTTON.









2.

CLICK ON THE DESIRED TYPE OF DOCUMENT YOU WANT OR, IF YOU ARE UNCERTAIN, CLICK ON "TO LIST OF ALL AVAILABLE ID's CLICK HERE".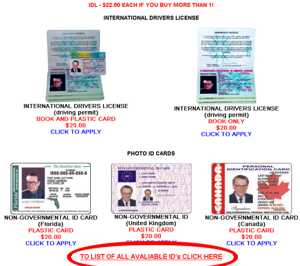 ATTENTION: YOU MUST HAVE A VALID DRIVER'S LICENSE TO APPLY FOR AN INTERNATIONAL DRIVER'S LICENSE





3.

PLEASE FILL OUT THE APPLICATION ON-LINE (PREFERRED) OR PRINT THE APPLICATION AND MAIL IT WITH ALL NECESSARY DOCUMENTS AND PAYMENT IN U.S. DOLLARS TO:


O TARASOVA
1750 THE QUEENSWAY., #3-103
ETOBICOKE, ON, M9C5H5
CANADA
O TARASOVA
793 CENTER STR., # 186
LEWISTON, NY, 14092
USA
Select Convenient Address, Cut Proper Address Label,
Stick it to Envelope and Mail to our Office
ATTN: MAKE CHECKS OR MO PAYABLE TO: O TARASOVA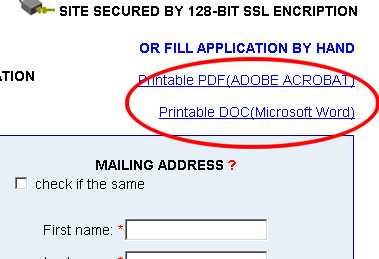 Attention: ALL PRICES IN US DOLLARS
NOTE: YOU MUST INCLUDE THE PRICE OF SHIPPING IN YOUR PAYMENT OR YOUR ORDER WILL NOT BE PROCESSED.





4.

YOU CAN UPLOAD ALL NECESSARY DOCUMENTS TO YOUR COMPUTER BY CLICKING ON "Browse" AND SELECTING THE PROPER FILE. THE COMPLETED FORMS CAN BE SENT BACK TO US BY E-MAIL OR REGULAR MAIL.





5.

ONCE YOU HAVE FILLED OUT YOUR APPLICATION COMPLETELY, CLICK "Continue to apply"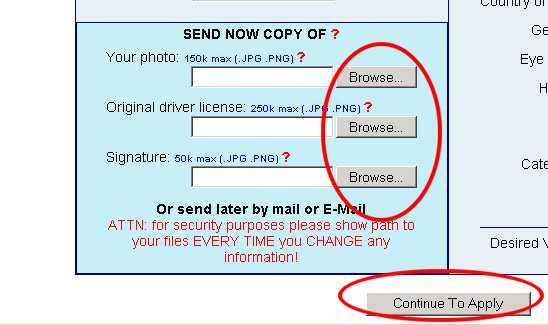 6.

CHECK ALL OF THE INFORMATION YOU ENTERED CAREFULLY. IF YOU NEED TO CORRECT OR CHANGE ANY OF THE INFORMATION, CLICK, "<< Edit Information"AND RETURN TO STEP 4.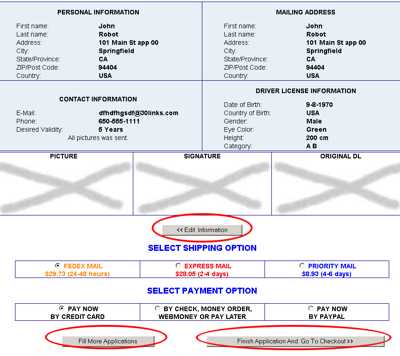 7.

AFTER COMPLETING THE FIRST APPLICATION, IF YOU WISH TO SUBMIT ANOTHER APPLICATION, CLICK ON, "Fill More Applications" AND RETURN TO STEP "2". ALL DISCOUNTS WILL BE APPLIED AUTOMATICALLY.





8.

TO COMPLETE YOUR TRANSACTION, SELECT YOUR SHIPPING OPTION AND YOUR PAYMENT OPTION BEFORE CLICKING ON, "SEND APPLICATION(s) - >>"





9.

BEFORE COMPLETING THE TRANSACTION, YOU WILL BE ALLOWED TO UPDATE THE SHIPPING METHOD OR CORRECT ANY MISTAKES.









10.

IF YOU WISH TO PAY BY CREDIT CARD, BE SURE THAT YOUR BILLING ADDRESS MATCHES YOUR CREDIT CARD'S BILLING ADDRESS. SHIPPING AND BILLING ADDRESSES MAY BE DIFFERENT BUT THIS MAY TAKE DELAY IN PROCESSING YOUR ORDER. THEN, CLICK "Pay Order By Credit Card Now !!!". OTHERWISE, PRINT THE APPLICATION AND CLICK ON, "Finish Order".




11.

IF YOU WISH TO PAY BY CHECK, MAIL THE PRINTED APPLICATION AND ALL NECESSARY DOCUMENTS WITH A CHECK OR MONEY ORDER MADE OUT TO:


O TARASOVA
1750 THE QUEENSWAY., #3-103
ETOBICOKE, ON, M9C5H5
CANADA
O TARASOVA
793 CENTER STR., # 186
LEWISTON, NY, 14092
USA
Select Convenient Address, Cut Proper Address Label,
Stick it to Envelope and Mail to our Office
ATTN: MAKE CHECKS OR MO PAYABLE TO: O TARASOVA




12.

AFTER WE RECEIVE ALL NECESSARY DOCUMENTS AND PAYMENT, YOUR ORDER WILL BE SHIPPED THE FOLLOWING DAY. YOU WILL BE PROVIDED WITH A TRACKING NUMBER BY E-MAIL TO CHECK ON THE STATUS OF YOUR ORDER. PLEASE ALLOW AT LEAST 24 HOURS FOR THE TRACKING NUMBER TO BECOME ACTIVE.

YOU CAN OBTAIN TRACKING AND ORDER STATUS INFORMATION BY VISITING SECTION "STATUS" AND TYPING ORDER NUMBER (5 DIGITS) WITH YOUR EMAIL ADDRESS